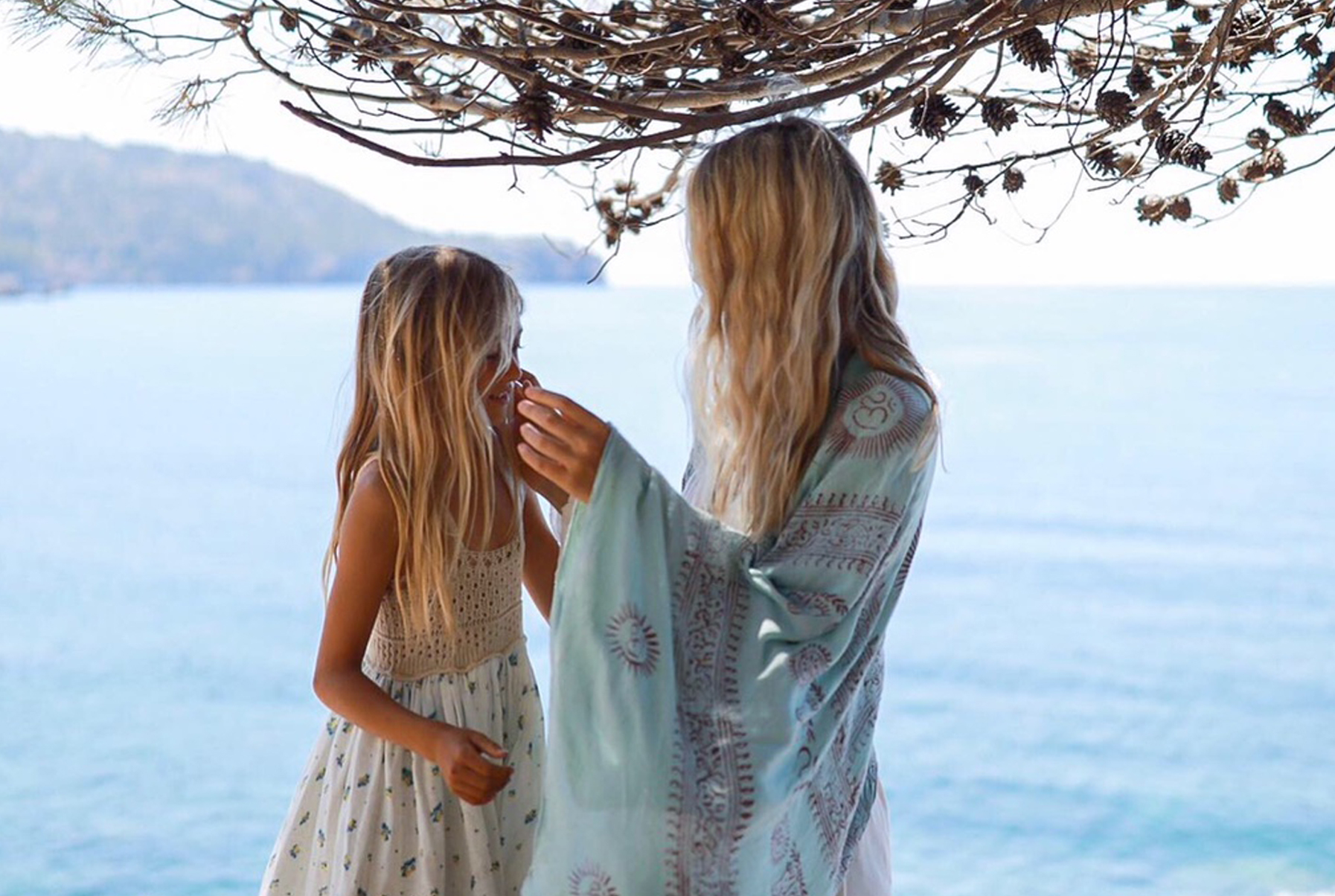 Palorosa's friends: in Lena's bag
Lena Catterick is the owner and creator of Yoli & Otis, a children's brand with the ethos of nature based in Bali and Bryon Bay. And a mother of two: Yolanda and Louie.
What's the first image that comes to your mind when I say Palorosa?
The story behind the brand is what first comes to mind. The local artisans of Guatemala all together hand-weaving these incredibly practical & sustainable baskets, in the most delicious colours!
I know you particularly love the Palorosa basket: why?
We spend a lot of time outdoors and travelling. To have a bag that accommodates both those things with pure ease and style, is what appeals to us most. Because the bag is so well structured, it's convenient being able to pull from it what we need allowing us to always have on hand snacks for the kids or a bottle of kombucha without having to worry about it making a mess. The size is SO perfect for our day to day adventures!!
You're both the creative director and owner of your brand, and a mother: that's why the Palorosa big baskets suit you so well?
It's a juggle! But yes, the Palorosa basket definitely is my trusty sidekick when it comes to leaving the house and running errands!
Which are the things that we'll always find in your bag?
Every day is different but it's always carrying a Turkish towel or two, in case we find ourselves on a beach somewhere. And we never leave the house without snacks for the kids – avocados, glass jars of dried fruit etc. and a canvas shopping bag in case we stop by our local organic grocer. There are usually a few stray hair ties in there too, which really come in handy and always so easy to find at the bottom of the basket!
Motherhood is a word full of meanings, especially nowadays: what's your personal definition?
To me it means forever evolving. Learning, growing and expanding our minds and the way we see ourselves. Children are our best teachers in life. Nothing compares to the unconditional love that comes with being a mother.
Do you have any memories of your mother's… bags?
Yes, because we were always at the beach as kids, she carried with her a large canvas tote with the initials CR (Country Road) in a natural colour. Like me, she was always very practical, but in a conscious way.
Which is the best present for Mother's Day?
Something handmade for sure, but for us we generally choose experiences over gifts, so I think they have something fun planned.
What's inspiration, according to you?
I usually gravitate towards colours and materials found in nature, and style I'm always inspired by the places we visit.
What's your next step?
Currently busy working on our next collections for both men's and women's and also kids. The goal is this year or next to open a store in Europe, but haven't yet decided where!